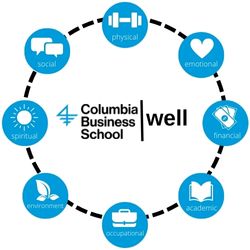 Maintaining a sense of well-being is essential to achieving success in students' MBA experience and future endeavors. CBS|well is a new initiative sponsored by the Office of Student Affairs that promotes the well-being of the CBS community across eight dimensions of the student experience -- academic, emotional, occupational, environmental, spiritual, social, physical, and financial.  
To institutionalize the practice of well-being, Wednesdays from 12:00 p.m. – 1:45 p.m. are designated as a time to focus on well-being as a community and as individuals. At CBS we will practice self-care, enhancing our individual well-being, and community care, a commitment to support the well-being of our peers and community.  
Everyone experiences practicing well-being differently; individual needs are shaped by identities, circumstances, and experiences. For some, it will simply be having a long lunch with friends, while others will want to join the quiet group study room or meditation space.  OSA offers programming across the eight dimensions of well-being throughout the academic year that meets individual and community needs.